HILDEGARD WEBER-LIPSI
---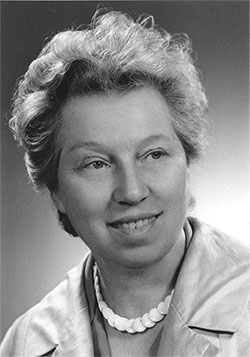 Hildegard Weber-Lipsi (1901 – 2000)
" ...light, exuberant abstract landscapes from the late Sixties in the refined colouring of the École de Paris..." Frankfurter Allgem. Zeitung 1.3.89
Selected exhibitions:
Salon d'automne, Grand Palais, Paris
World technical xhibition, Paris,1937
Salon des Realités Nouvelles, Paris
Galerie Palette, Zürich
Galerie Appel & Fertsch, Frankfurt
Galerie Konoha, Tokyo
Galerie Rippstein, Basel
La Galerie, Paris
Galerie Bromer, Zürich
Born in 1901 in Wädenswil by Lake Zurich, Hildegard Weber was drawing caricatures of her teachers, comic scenes, etc. while still in high school. She began her artistic career in 1922 with the Impressionist painter Willy Hummel in Zurich. By the second day Hummel, convinced of her talent, advised her to paint in oils.
The years from 1923-2000
Aged 23, Hildegard was asked by publishers Gebrüder Fretz AG to illustrate a book: Eduard Mörike's "Das Märchen vom starken Mann". She was also making small sculptures.

In 1924 Hildegard studied at the Kunstakademie Karlsruhe, where her works piqued the interest of teachers of the Neue Sachlichkeit (New Objectivity).They showed it around in the classes. Driven by simmering unease about the rise of National Socialism, Hildegard travelled to London and the studio of Raymond Coxon, then on to Paris, where she became aware of Morice Lipsi during his solo exhibition at the Galerie d'Art Contemporain. From 1927-1928 he gave her drawing lessons. In 1929 she participated in the Salon d'Automne in Paris.

Morice and Hildegard soon moved from the artists' colony La Ruche to a studio on rue de Vanves. Shortly before the birth of their first daughter the couple, now married, moved to an old farmhouse in the southern suburb of Paris,  Chevilly-Larue, where Morice and Hildegard kept their studios for the rest of their lifes, only interrupted by the exodus of the war, when Morice had to flee to the Charente departmen in 1941.

In order to be admitted to Switzerland with her children, Hildegard had to separate from him. After the war they alternated, Hildegard working mainly in Küsnacht and Morice in Paris (Chevilly-Larue).

Hildegard Weber-Lipsi regularly took part in, among others, the Salon des Réalités Nouvelles, and exhibited her pictures in France, Germany, Israel, Japan and Switzerland. For 28 years her works were displayed in the Musée Lipsi in Rosey, Haute-Saône.

Many works went to private collections in France, Germany, Italy, Switzerland, Japan and other countries.

The artistic dialogue between two people quite different in temperament and origin lasted from 1927 until Morice Lipsi died in 1986
After Morice Lipsi's death she went on to create hundreds of works: oil paintings, drawings and watercolours. Hildegard Weber-Lipsi died in 2000, 2 months before her hundredth birthday, in Goldbach-Küsnacht.
Her works are now part of the Lipsi Collection in Hinwil, Hadlikon. On show are the vibrant colours of countless oil paintings, watercolours and drawings, and particularly the wonderful stick puppets of 1937.