BIOGRAPHY

Morice Lipsi (1898–1986)
---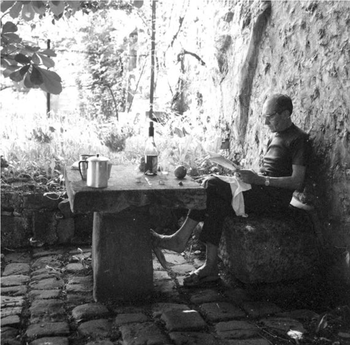 Photo: Gabrielle Beck-Lipsi
Morice Lipszyc named Morice Lipsi*) was born in 1898 in Pabianice, near Lodz in Poland. He Worked in Paris from 1912, then he settled in Chevilly-Larue (Val de Marne) in 1933. He died 1986 in Küsnacht-Goldbach near Zürich.
*) He chose the name LIPSI in 1926, in order to prevent confusion with his colleague Jacques Lipchitz (1891-1973).
Lipsi in the courtyard of No. 8, rue Albert-Thuret, Chevilly-Larue in 1964. Egg, sardine, apple, pinard, coffee, lecture of "Combat".

1898-1940
1898 Moryce (Izrael Moszec) Lipszyc, called Morice Lipsi, born in Pabianice, near Lodz in Poland. From 1912 Morice Lipsi worked in Paris, in 1933 he lived in Chevilly-Larue in the Val de Marne, where he had his studio. In 1986 he died in Goldbach-Küsnacht near Zurich.

In 1912 Morice Lipsi immigrated to Paris and found accommodation with his brother, Samuel Lipszyc, in the artists' city La Ruche (honeycomb). Lipszyc taught him the craft of carving ivory, wood and other materials.
1916 Studies at the École Nationale Supérieur des Beaux-Arts de Paris.
1919-22 Frequent visits to the cathedral of Chartres; orientates himself towards sculpture under the open sky.
1922 First solo exhibition at the Gallery Hébrard in Paris, where he shows his ivory figures.
1927 Encounter in Paris with the young Swiss painter, Hildegard Weber, from Zurich, whom he marries in 1930
1927-33 Together they move into a studio, 172, rue de Vanves.
1929 First stay in Switzerland.
1930 Birth of first daughter, Verna. First exhibition in Switzerland, at the Kunstsalon Dr. Störi in Zurich. Stay in northern Italy, where he worked every summer until 1939.
1931 Participation in the exhibition "Plastik" at the Kunsthaus Zurich. Works increasingly in taille directe, (carved directly into the stone).
1933 Installs himself in the banlieue sud de Paris, in Chevilly-Larue, where he now has his studio. Obtains French nationality. Birth of his second daughter, Jeanine.
1936 Trip to London with Hildegard to visit the great museums.
1937 Participation in the Exposition Universelle des arts et techniques de Paris.
1940 Is mobilised for a short time. Is forced to undertake the exodus because of his Jewish origin. Landed in the free zone, at Abzac, Charente. Realizes the sculpture: "Berger et ses moutons" as well as some other works for the romanesque churches of the area, such as "vierge à l'enfant" for the church Notre Dame de Brillac (Charente) and two angels for the church Availles-Les Limouzine (Vienne).  


1941-1986
1941 birth of the third daughter, Gabrielle
1943 Fled to Switzerland. In a small studio in Geneva, he models the series of masques (masks) made of plaster, esgargots, feuilles, etc. Decisive turning point to abstraction in Lipsis' work.
1944 Participation in the exhibition "Visage de la France" at the gallery Moos, Geneva.
1945 Participation in a sculpture exhibition at the Kunsthalle Bern.
1945 On the day of the armistice Lipsi returns to Chevilly-Larue, where he resumes work in his studio and meets his Parisian friends again. Here he completes the process of developing his formal language towards purely abstract sculpture.
At the same time, during his stays in Switzerland, he also establishes his second studio in the house of his wife, Hildegard Weber-Lipsi, in Goldbach-Küsnacht, where he works every summer. This, until the end of his life. In Goldbach he created numerous sculptures, which were also exhibited in Switzerland.
1954 From then on Lipsi practised almost exclusively la taille directe in stone.
1956-58 Travels to Positano and Taormina in Sicily, where he discovers the lava on Etna. He creates his first sculpture made of lava: "Etna". From then on, Lipsi obtained his lava stone blocks in the quarries of the massif central near Volvic.
1961-62 First monumental sculpture in limestone: "St. Christpohe" at the
National road no. 10, (RN 10) à la Billette (Ladaville, Charente).
1962 Becomes Vice President of the Salon des Réalités Nouvelles and exhibits there regularly. Co-founder of the Architecture-Principe group, together with the painter Michel Carrade, the architect and planner Claude Parent and the sociologist Paul Virilio.
1963 International Sculpture Symposium in Japan. Lipsi works in the lava quarry in Manazuru, vernissage in the park of the Imperial Palace in Tokyo. His two monumental sculptures, "L'Océanique l (Pazifique)" and "Océanique ll" were placed in front of the sports stadiums built by the architect Kenzo Tange. (Tokyo Summer Olympics, 1964).     
1964 Co-founder and president of the first French sculpture symposium.
1966 Creation of the monumental sculpture: "Cabballistique" made of lava stone, which Lipsi dedicated to the State of Israel. Only one year after his death, the sculpture was inaugurated in 1987 in Tel Aviv in the park in front of the townhouse, Boulevard Ben Gurion.     
1967 Presides over the International Sculpture Symposium in the village olympique of Grenoble (Winter Olympics, Grenoble 1967).
Creates the 12 meter high sculpture in granite from Brittany, called "Colonne olympique (ouverture dans l'espace)
1970 Trip to Mexico with Hildegard. Further monumental sculptures are created for public commissions in France and other countries.
1979 For health reasons Lipsi has to renounce a large commission, which he could have realized in Versailles for the military.
1982 Morice Lipsi became an honorary citizen of the municipality of Chevilly-Larue,
where he had lived for over 50 years.
1983 Lipsi spent his last years in Goldbach with Hildegard, where he devoted himself mainly to drawing and sketching. He created his last work in stone, the stele for the grave of his daughter Jeanine Liptay-Lipsi (1933 - 1983).  
June 1986 The intensive artist dialogue with Hildegard ended with the death of Morice Lipsi.


Decorations
Commandeur de l'Ordre des Arts et des Lettres
Chevalier de la Légion d'Honneur
Personal exhibitions
1922  Galerie Hébrard, Paris
1927  Galerie d'Art Contemporain, Paris
1935  Galerie Druet, Paris
1946  Galerie Pierre Maurs, Paris
1953  Galerie Art Vivant, Paris
1954  Galerie Beno, Zurich
1956  Galerie Cittadella, Ascona, Suisse
1958  Galerie Palette, Zurich
1959  Galerie Denise René, Paris
1964  Kunsthalle de Mannheim
1965  Galerie Denise René, Paris
1966  Galerie Appel und Fertsch, Francfort
1976  Galerie Appel und Fertsch, Francfort
1980  Musée de Pontoise
1982  Atelier Lipsi, Chevilly-Larue (portes ouvertes)
1985  CNAGP Centre National des Arts Plastiques, Paris, rétrospective
1989  Galerie Bodenschatz, Bâle
1990  Inauguration du centre Morice Lipsi à Rosey, Haute-Saône
1991  Musée Garret, Vesoul
1992  Galerie Michèle Heyraud, Paris
1998  Musée Hebert à La Tronche, Grenoble
2003 Couvent de Favernay en Haoute-Saône
2003 Espace Cotin, Lure
2004 Maison de la Franche-Comté, Paris / Musée Lipsi, Rosey «Les dessins de Lipsi»
2005 Salle d'armes du château, Pesmes,
2006 Centre culturel « Le Triangle », Huningue
2007 Galerie Artvera's, Genève
2010 Ville de Chevilly-Larue, Rétrospective LIPSI en collaboration avec la Maison des Arts - Plastiques Rosa Bonheur et la Maison du Conte (ancienne villa Lipsi)
2014  Galerie Martel-Greiner, Paris «De Lodz à La Ruche, de la  figuration à l'abstraction»
2018  Inauguration du musée « Sammlung Lipsi » à Hinwil, Suisse
2019 Dorfplatz und Gemeindehaus Meilen Morice Lipsi, Skulpturen und Zeichnungen
2023 Galerie am Lindenplatz, Vaduz, Liechtenstein. Morice Lipsi, 1898-1986, Ty Waltinger, 1962-2022.
Major group exhibitions
1928  Salon de la folle enchère, Galerie Pleyel, Paris
1929  Galerie Bonaparte, «art polonais moderne», Paris
1929  Galerie Zak, «Exposition de sculptures et dessins de sculpteurs», Paris
1930  Kunstsalon Dr. Störi, Zurich, «Moryce Lipszyc: Plastik, Ernst Denzler: Gemälde, Graphik, Hildegard Weber: Kleinplastik»
1931  Exposition Internationale de Sculpture «Plastik», Zurich (Kunsthaus)
1937  Exposition Universelle de Paris
1938  Exposition Française «Beaux-Arts, Arts Décoratifs», Le Caire, Égypte
1940  Musée Galliera « Images et jouets de France », Paris
1944  Galerie Moos, «Visage de la France», Genève
1945  Kunsthalle de Berne, exposition de Sculpture
1949  Maison de la Pensée Française, «La sculpture de Rodin à nos jours», Paris
1951  Helmhaus Zurich, «Künstlergemeinschaft Réveil», Galerie Palette, Exposition du groupe «Paris-Zürich», Zürich
1952  Städtische Kunsthalle de Recklinghausen, avec Geer van Velde et Ismael de la Serna,
Allemagne
1954  Exposition du groupe «Espace», Biot, France
Galerie d'art moderne Marie Suzanne-Feigel, Bâle. «Axel Eggler/Lipsi»
1955  Biennale de sculpture en plein air, Parc de Middelheim, Anvers, Belgique
Künstlergruppe Réveil, Zurich
Exposition du groupe «Espac», Parc de Saint-Cloud, France. Musée des Beaux-Arts de Rouen, exposition «Art 55»
1957  Berlin, exposition «Französische Plastik, Objekt 8 Interbau»
Galerie Suzanne de Coninck, «Hommage de la Sculpture à Brancusi», Paris Galerie Arnaud, «Divergence 5», Paris
Musée de Nantes, «Réalités Nouvelles», Nantes
1958  Galerie Claude Bernard, Paris
Palais des Beaux-Arts, Charleroi (Belgique) à l'occasion de l'Exposition Universelle de Bruxelles
5ème Biennale de sculpture, Yverdon (Suisse)
1959 Kassel, «Documenta II», Allemagne, Rose Fried Gallery, New York, 24 modern masters
1960  Musée d'Art et d'Industrie de Saint-Etienne, «Cent sculpteurs de Daumier à nos jours».
Bruxelles, Liège, Bruges, Exposition itinérante «Art Construit», Belgique
1961  Galleria Civica d'Arte Moderna, «Peintres d'Aujourd'hui France Italie», Italie
Galerie Denise René, «Structures», Paris
1962  Leverkusen, exposition «Structures», Allemagne
Maison de la Culture, «Sculpture Contemporaine», Le Havre
Musée National de Varsovie, «Dessins français du XVII-XXème siècles», Pologne Musée Fabre, Montpellier, «Rencontre V»
1963  Bois de Boulogne, Paris, «Forme et Magie»
Galerie Denise René, Paris, «Esquisse d'un salon»
Musée Cantonal des Beaux-Arts de Lausanne, «Artistes et Découvreurs de notre temps» Museum am Ortswall, Dortmund, (Allemagne), «Creatura»
Manazuru, près de Tokyo, Japon, Symposium International de la sculpture moderne et parc du palais impérial à Tokyo.
1964  Cercle Culturel de Royaumont, France, «100 sculptures et tapisseries contemporaines à Royaumont»
Vienne, (Autriche), «Dessins de Sculpteurs»
Musée Cantonal des Beaux-Arts, Lausanne, Suisse, «Miroir et mémoire du premier salon international des Galeries Pilotes»
1965  Keukenhof, (Hollande),
Exposition de Sculptures Athènes, (Grèce), «Panathénées de la Sculpture Mondiale» Galerie Claude Bernard, Paris
1966  Galerie Lahumière, Paris
Galerie A, Paris, exposition de dessins Tchécoslovaquie, Symposium Wyzne-Rusbachi.
Grenoble, Premier Symposium français de sculptures
1967  Galerie Creuze, Salle Balzac, «L'art pour la paix au Viet-Nam», Paris
1968  Centre culturel du Languedoc, «La Grande Motte » été '68.
1969  Palais des Papes, Avignon
Kunsthalle de Mannheim,(Allemagne), «Acquisitions»
1964-69  Musée de Sable, Port-Barcarès, France
1970  Musée municipal de Saint-Germain-en-Laye, France, Fontainebleau, France, « L'art
dans la Ville », Mâcon, France, « Sculptures à ciel ouvert »
1971  Symposium des Arts, Mannheim, (Allemagne), «Europe Internationale»
1972  Château de Montmirail, Sarthe
«Rencontre dans l'Espace», Ferrare, Italie
Collection Henraux, Querceta, Lucca, Italie
1973  Osaka, Tokyo, Fukuoka, (Japon), «Maîtres de la Sculpture Moderne», exposition itinérante.
1974  Galerie Enseigne du Cerceau,Paris
Saint-Germain-en-Laye, France, «Formes pour un espace»
1975  La Demeure, Paris, avec les tapisseries de Julien
Galerie UNESCO, Paris, «L'année de la Femme» Palais Galliera, Paris
Vitry-sur-Seine, Paris, «L'Art dans la Ville»
1975  Biennale de Padoue, Italie Musée Rodin,Paris
1976  Musée de Calais, France
Galerie Ariel et Jeanne Bucher, «Hommage à R.v. Gindertael» Musée du Luxembourg, Paris
1978  Jardin du Palais Royal, Paris, Triennale Européenne de sculpture Cercle de la librairie, Paris
Paris, Rue Berryer, exposition «L'Art dans la Ville»
Musée Jacquemard-André, Paris, «La Ruche et Montparnasse» 1902-1930
1979 Brest,exposition «présence contemporaine de la sculpture» 38ème congrès CFDT Paris, Mairie du XVème, «L'école de Paris dans le XV ème» Pontoise, Musée de Pontoise, «La main, l'écriture et son support» de Babylone à nos jours.
1980  Chambre de commerce, Paris Galerie Suillerot, Paris
Evry 2, «L'art en Plus»
1980  Belfort, exposition «Sculpture»
1981 Offenbach a.M., «Kunst auf Markt und Strassen»
1982  Centre Culturel du Mexique, Paris, «soixante Artistes pour un musée»
Centre Culturel, Chevilly-Larue (Val-de-Marne)
Galerie Louis Carré, Paris
1983  Centre Bab Rouah Rabat, Maroc, «Dix sculpteurs français en Afrique»
Nairobi, Lagos, (Nigeria), exposition intinérante.
Centre Culturel français, Créteil, Val-de-Marne, «Acquisitions 82»
1985  The Jewish Museum, New York, «The circle of Montparnasse – Jewish artists in Paris
1905-1945»
1993  «Hommage à Schouffenecker», Fresne-Saint-Mamès (Haute-Saône)
Salle communale, Ronchamp (Haute-Saône)
1995  Couvent des Cordeliers Paris «Trente ans de jeune sculpture à Paris avec Denys
Chevalier»
1996  Restaurant de la Tour, Scey-sur-Saône (Haute-Saône), avec Hildegard Weber-Lipsi
1997  Magasin Grenoble 30 ème anniversaire du symposium de sculptures
1998  IUFM de Franche-Comté, Fort Griffon, Besançon, «Les musées s'exposent»
2000  Musée d'Art Moderne de la Ville de Paris, «L'Ecole de Paris»
2003  Kunstmuseum Ahlen (Westphalie) «Sur les traces de Marc Chagall»
2004  Kulturspeicher Würzburg «Sur les traces de Marc Chagall»
2004  Donation Jardot, Belfort, Autour de «la petite musicienne» de Henri Laurens,
2004  Musée du Montparnasse, Paris «Ecole de Paris» Jeanine Warnod
2005  Musée du Montparnasse, Paris «Artistes Européens - Montparnasse déportée»
Musée de Volvic, Volvic «Pourqoi la lave?»
2006 Museum of Art Yad Vashem, Jérusalem «Artistes Européens-Montparnasse déportée»
2007  Museo Diffuso, Torino «Artisti Europei da Parigi ai Lager»
Musée de Gajac, Villeneuve-sur-Lot «Action pensive»
Galerie Orlando, Zurich «Der Sturm»
2008  Musée Tavet-Delacour, Pontoise, «Humanisme et Expressionisme. La représentation de la figure humaine et l'expérience juive»
2009 Palais Lumière, Evian, «La Ruche, cité des artistes 1902 – 2009»
2010 Galerie Orlando, Zurich «Kunst und Bühne»
2011 Galerie Orlando, Zurich «Vom Künstler zum Nachlass zum Sammler»
2015 Galerie Orlando, Zurich «Künstler im Exil in Ascona, Paris, New York»
2016 Musée National Fernand Léger, Biot, «L'été 1954 à Biot» (Le groupe Espace)
2019 Galerie Orlando, Zürich «Vom Kubismus übers Bauhaus zur konkreten Kunst»
2021 Musée d'art et d'histoire du Judaïsme, Paris. «École de de Paris»
2021 Galerie Orlando «Geneviève Claisse, Auguste Herbin und die abstrakte Vielfalt»
2022 Gallerie d''Italia, Milano «Collezione Henraux 1960-1970»
2023 Jüdisches Museum Berlin «Paris Magnétique 1905-1940»
Salons
Salon des Indépendants et Salon d'Automne, jusqu'en 1950.
Salon de Mai, 1948, 1950, 1951 et 1965.
Salon des Réalités Nouvelles depuis 1956. Il est président de la section sculpture de 1962 à
1969, membre du comité en 1971, membre du comité d'honneur de 1972 à 1984.
Salon Comparaisons 1957 et 1958 – 1967 et 1968.
Salon de la Jeune Sculpture de 1949 à 1957.
Salon d'Art sacré 1962.
Salon Grands et Jeunes d'aujourd'hui 1964, 1965, 1966, 1968, 1969.
Salon de Montrouge, 1966.
Salon des Réalités Nouvelles 1985 «Bonjour Morice Lipsi» 7 sculptures
Monumental works and public comands
1931  Vénus de Chevilly, pierre d'Euville (1,90 x 0,61 x 0,55 m), jardin de l'atelier, Chevilly-Larue
1937  Joueuses de balle, pierre agglomérée, (2,60 x 0,95 x 1,50 m) Parc privé, Au-Wädenswil, Suisse
1937  Ondes Généreuses, sculpture frontale, pont Alexandre III, Paris.
Bas relief, (2 x 3 m) pour le club des architectes : deux œuvres réalisées à l'occasion de l'exposition Universelle de Paris de 1937. Le bas-relief fut acquis par l'État pour l'école professionnelle de Creil, (Oise).
1939 Groupe de Baigneuses, en pierre d'Euville, (1,65 m), implanté en 1946 au parc Mont- souris, Paris.
1940  Berger et Moutons, pierre de Sireuil, place du Champ-de-Foire, rebaptisée place Morice Lipsi en 2011, Abzac, Charente.
1941  Vierge à l'Enfant, bois de chêne, Notre-Dame de Brillac, Charente.
1942  Deux Anges musiciens, terre cuite, église d'Availles-Limousine, Vienne.
1945  La Paix, motif frontal pour le congrès international des syndicats, Palais de Chaillot,
Paris.
1957-58  Dominante incise, granit (1,23 m) ; érigée sur l'esplanade Jean-Paul Sartre, Chevilly-Larue en 1982.
1959-60  La Roue, pierre volcanique (2,20 x 1,50 m.), Wasserturm, Mannheim, Allemagne.
1960  La grande Lave, pierre de lave (1,50 x 1 x 0,60 m), collection du Musée d'Art Moderne
de la Ville de Paris, prêtée au Musée Morice Lipsi à Rosey. Rendue au Centre Pompidou en 2019. La grande Galbée, pierre Volcanique (2,15 x 80 x 80), ville de Hanau, Allemagne
1961 Saint Christophe, pierre de Sireuil (5,20 m), RN 10 à la Billette, Ladiville, Charente.
1961  La Méditerranéenne / L' Atlantique, pierre volcanique (1,85 x 1,80 x 0,66 m), Port-
Barcarès, France.
1963  Cuve baptismale, ambon, autel principal, autel de la semaine et tabernacle, pierre
volcanique et granit de Haute-Savoie, église Sainte-Bernadette à Banlay, Nevers, avec
les architectes Claude Parent et Pierre Virilio.
1963  La Pacifique / L'Océanique, pierre volcanique (2,65 x 2,40 x 1,20 m), collection Tokuhito
Miki, Osaka, Japon.
L'Océanique II, pierre volcanique (100x70x60), stades olympiques, Tokyo, Japon.
Le grand Granit, hommage à Vitullo, granit bleu (2,15 x 72 x 74), collection Lipsi, Rosey, France
1966  Aux Tatras, pierre de travertin (2,50 m), Visne, Ruzbachy, Tchéchoslovaquie.
1966  La Cabbalistique, pierre volcanique (2,68 x 1,13 x 1,18 m), inaugurée dans le parc Ha Yir, Tel Aviv en 1987.
1967  Colonne Olympique, Ouverture dans l'Espace, granit de Bretagne (11,90 m), Grenoble.
1968  L'adret, pierre de Haute-Savoie (1,05 x 2,26 x 1,15 m), Institut d'Etudes Politiques,
Saint-Martin d'Hères.
1969  Sculpture-Fontaine, granit rose (3,90 m), Vitry-sur-Seine.
1969 Rencontre dans l'Espace, marbre (2,40 m), Fondazione  Henraux, Querceta, Italie. (Piazza della Scala, Milano)
1970  Sur Pivot III, pierre rouge de Perse (2 m), Maison de la Culture, Chalon-sur-Saône.
1971  La percée, pierre de Haute Savoie, Collège Jean Mermoz, Marly-Frescaty, Moselle.
1972  Dialogue de la Tangente et de la Verticale, granit rose (5,24 x 2,30 x 2,00m), Lycée
Félix Le Dantec Lannion.
1974  Canjuers haut dans le ciel, granit bleu (8,m), camp militaire, Canjuers.
1975  Sculpture Spatiale, granit bleu (2,90 m), CET Rostrenen, Cotes du Nord.
1975  Sculpture, granit rose (1,65 m), CES Clouange, Vitry, Moselle.
1976  Montélimar haut dans le ciel, granit bleu (7 m), CET Montélimar.
1978  La grande vague, granit rose (8 x 1,28 x 6 m), Musée des Beaux Arts de Grenoble.
2010  Hiéros, bronze d'après pierre de Volvic (207 x 90 x 30 cm) de 1963, Ville de Chevilly-
Larue, rond-point place du Général de Gaulle.
Public collections
AUTRICHE
Musée du XXème siècle, Vienne
ALLEMAGNE
Kunsthaus de Bielefeld
Städtische Kunsthalle et Wasserturm de Mannheim
Musée des Beaux-Arts de Francfort
Ville de Hanau
BELGIQUE
Musée de Middelheim, Anvers
FRANCE
Musée National d'Art Moderne (Centre Georges Pompidou, Paris)
Musée d'Art Moderne de la Ville de Paris
Musée de Grenoble
Musée d'Art Contemporain du Val-de-Marne, Macval, Vitry-sur-Seine
Musée des Années 30 à Boulogne-Billancourt
Musée d'Art et d'Histoire de la Ville de Meudon
Ville de Paris - Parc Montsouris
Ville de Grenoble
Fonds National d'Art Contemporain
Fonds Départemental d'Art Contemporain du Val-de-Marne
Musée d'Art Moderne de Saint-Etienne
Musée de Picardie à Amiens
Musée de Pontoise
Musée de Volvic
Chapelle Sainte-Bernadette, Nevers
Ville de Chevilly-Larue, théâtre et giratoire avenue du Général de Gaulle
Ville de Châlons-sur-Saône, Centre Culturel
Ville de Vitry-sur-Seine
Fondation Port-Barcarès (musée des Sables) et autres...
ISRAEL
Musée d'Ain-Harod, Jérusalem
Musée National Bezalel, Jérusalem
Ville de Tel Aviv
ISLANDE
Ville de Reykjavik
JAPON
Tokyo, Stades Olympiques
Osaka, parc public
MEXIQUE
Museo de Ciudad,Mexico City
SLOVAQUIE
Ville de Vyšné-Ružbachy, Tchécoslovaquie
Private Collections
Collection Gruner, Bâle
Collection Henri Iselin-Weber, Bâle
G. Réal, Ascona;
Helena Rubinstein, New York;
Martin Becker, New York;
Denise René, Paris;
Dr. Saloff, Dijon, France;
Mme Alix de Rothschild, Paris;
R. v. Gindertael, Montrouge;
Sonja Delaunay, Paris;
Denys Chevalier, Paris;
Geer van Velde, Cachan;
Mme Susse, Paris.:
Fondazione Henraux, Querceta (Lucca);
Dr. Manfred Fuchs, Mannheim;
Tokuhito Miki, Osaka, Japon
Musée Morice Lipsi, Rosey, maintenant e Suisse
Nombreuses autres collections privées en Allemagne, Suisse, Angleterre, Italie, Belgique, aux Etats-Unis, au Japon, en Israël...
Biograph
Ecrits de Morice LIPSI
«Mon exode de 1941» Ed. Musée Morice Lipsi 2005
«Hommage à Sklavos» , catalogue de l'exposition au Musée Rodin, Paris, 1968. «Artistes et architectes se connaissent mal» Lettres Françaises 7.10.1979
«Préface du catalogue de sculptures» de Narita Takera, Paris, 1979.
«Ossip Zadkine» , dans Connaissance des Arts no 378, Paris , 1979.
«Hommage à Marcel Joray» manuscrit
Entretiens avec Morice LIPSI
Alberte Grynpas-Nguyen, «Entretien avec Morice Lipsi» , Catalogue de l'exposition au Centre National des Arts Plastiques, Paris, 1985.
Ignace Meyerson, Entretien avec Morice Lipsi «Forme, couleur, mouvement» dans les arts plastiques (1953-1974), ed. Adam Biro, 1991.
Plusieurs entretiens avec Radio France-Culture.
Books about Morice LIPSI
MONOGRAPHIES
Gindertael van (Roger), Lipsi, Paris, coll. Prisme, H. Hofer, 1959.
Gindertael van (Roger), Morice Lipsi, Neuchâtel, ed. du Griffon, 1965.
Beck-Lipsi (Gabrielle), Hinwil, «Morice Lipsi et son musée à Rosey», conférence à l'université de Besançon, éd. Musée Morice Lipsi, Rosey/Hinwil, 2001
Brutscher (Sandra), « Morice Lipsi (1898-1986), Das Bildhauerische Werk » Verlag Dr. Kovač, Hamburg, mit Werkverzeichnis auf CD, 2018
Beck-Lipsi (Gabrielle), « Morice Lipsi, 1898-1986, L'itinéraire d'un sculpteur abstrait au XXe siècle, suivi du catalogue de tout l'oeuvre sculpté » Préface de Frédéric Chappey, textes de R.V.Gindertael. Enrichi de propos d'auteurs contemporains de l'artiste. Ed. du Griffon, Neuchâtel, 2018. (Version Française et version Anglaise).
Morice Lipsi, 2021. Initiated by Florian Schmidt-Gabain, realised by Thomas Julier and Meret Kaufmann. Graphic: Roland Brauchli. Softcover with thread binding, 48 pages, text DE / FR / EN, 17 x 24 cm, ED collection Lipsi, Hinwil
Various articles + exhibition catalogues
Sisson (Thiebault), Le Temps, « Un batteur de métal : Linossier , un sculpteur en ivoire: Lipchytz », Paris, 1921
Merlot, Pologne, Galerie Montaigne, «Artistes Polonais», Paris, 1921
Parmentier (Florian), Le moniteur musical, «Un sculpteur d'avenir, Moryce Lipchytz», Paris, 1924
Warnod (André), préface du catalogue de l'exposition, Galerie d'Art Contemporain, Paris,1927.
Meier (Peter), Das Werk, no 2, Zurich, 1930.
Gautier (Maximilien), L'art vivant, no 167, Paris, 1932.
Vauxcelles (Louis), Morice Lipsi, imprimerie Frazier Soye, Paris, 1935.
Warnod (André), Le Figaro, «Exposition à la galerie Druot, Morice Lipsi», Paris, 1935
Vauxcelles (Louis), Excelsior, «Exposition Morice Lipsi», Paris, 1935
Champigneuille (Bernard), Mobilier et Décoration, Paris, janvier 1936
Davray (Jean), préface du catalogue de l'exposition, Galerie Pierre Maurs, Paris, 1946
Wescher (Herta), Cimaise, no 7-8, Paris, 1956.
Gindertael van (Roger), Quadrum, no 6, Bruxelles, 1959.
Guegen (Pierre), Aujourd'hui, no 21, Boulogne, 1959.
Seuphor (Michel), L'Œil, no 49, Paris, 1959.
Seuphor (Michel), Cimaise, no 5, Paris, 1959.
Seuphor (Michel), Dictionnaire de la Sculpture Moderne, Neuchâtel, ed. du Griffon, 1959.
Wescher (Herta), Cimaise, no 4, Paris, 1959.
Chevalier (Denys), Dictionnaire de la Sculpture Moderne, Paris, ed. F. Hazan, 1960
Giedion-Giedeon-Welcker (Carola), Contemporary Sculpture – An evolution in volume and
space, revised and enlarged ed. George Wittenborn, Inc. New York, 1960
Gindertael van (Roger), XX ème siècle, Nouvelles situations de L'Art Contemporain, Paris, juin 1960.
Pörtner (Paul), Germain (Jacques), Ubac (Raoul), DU, Band 20, Heft 10 « Gespräche über die Inspiration » mit Raoul Ubac, Jacques Germain, Morice Lipsi, 1960.
Gindertael van (Roger), Quadrum, no 12, Bruxelles, 1962.
Anonyme, «Lipsi» , Art International, Zurich, avril 1962.
Marchiori (Giuseppe), Panorama delle Arti, no 2, Rome, 1962.
Marchiori (Giuseppe), Scultura Francese moderna, Milan, ed. Silvana, 1963.
Volta (Candido) Marmo « Un mese di sculptura a Parigi, appunti di viaggio » 1962
Selz (Guy), Découverte de la Sculpture Moderne, Lausanne, ed. Clairefontaine, 1963.
Gindertael van (Roger), préface du catalogue de l'exposition à la Kunsthalle de Mannheim, 1964.
Read (Herbert), Modern Sculpture, a concise history, 1964
Lexikon der Modernen Plastik, ed. Knauer Ludwigsburg, 1964.
Marchiori (Giuseppe), Metro, Milan 1964.
Bente (M.-R.), Louisiana Revy, DK « Skulpturer i en park (Middelheim) », 1964.
Fuchs (Heinz), Préface du catalogue de l' exposition Morice Lipsi, Galérie Appel und Fertsch, Francfort, 1965
Pœrtner (Paul) «Une suite sans fin» (même catalogue)
Appel (Horst) «Für Morice Lipsi» (même catalogue)
Seuphor (Michel), Ragon (Michel), L'art abstrait, Paris, ed. Maeght, 1973.
Gindertael van (Roger), Lipsi dessinateur, catalogue de l'exposition Morice Lipsi - Paris,
«Zeichnungen von 1930-1976», Galerie Appel und Fertsch, Francfort, 1976.
Warnod (Jeanine) La Ruche & Montparnasse, le chapitre «Moryce Lipsi et Paul Maïk, joyeux et infatiguables» , Exclusivité Weber, 1978
Leymarie (Jean), préface du catalogue de. l'exposition, Musée de Pontoise, 1980.
Pollozek (Rudolf) « Inbild und Werk » Psychische Vorgänge beim Entstehen von Skulpturen und Plastiken, Verlag Waldemar Kramer, Frankfurt.a.M, 1980..
(Gérard), La Sculpture moderne en France depuis 1950, Arted, Editions
d'Art, Paris, 1982.
Silver (Kenneth E.) and GOLAN (Romy) Catalogue de l'exposition au Jewish Museum, New York, The circle of Montparnasse, Jewish artists in Paris, 1905-1945 le chapitre: Cohen (Arthur A.) «From Eastern Europe to Paris and beyond» 1985
Germa (Michel) FDAC Val de Marne 1982-1986, 5 années d'acquisitions, calalogue de la collection, établi par Moulin (Raoul Jean), 1986
Beck-Lipsi (Gabrielle) Une suite sans fin, un hommage à Lipsi après son décès, par ses amis, 1986
Kober (Jacques) «Les masques de Morice Lipsi» réproduction d'un article sur l'exposition Morice Lipsi, galerie Pierre Maurs, Paris, publié dans l'hebdomadaire Arts le 31 mai 1947 et dans le livre «Les mains éblouies», 1986
Nesme (Henry) Sculptures 1933-1980 Préface du catalogue de l'exposition au Musée Hébert à La Tronche (Grenoble), 1998
Andral (Jean-Louis) et Krebs (Sophie) L'Ecole de Paris 1904-1929, la part de l'autre , catalogue de l'exposition au Musée d'Art Moderne de la Ville de Paris, 2000
Paulve (Dominique) La Ruche – Un siècle d'art à Paris, Ed. Gründ, Paris, 2002
Godeau (Jerôme) Le promeneur de Paris, une promenade dans les jardins Parisiens,
Paris Musées, 2003
Ewers-Schultz (Martina) Auf den Spuren Marc Chagalls, Jüdische Künstler aus Russ-
land und Polen, catalaogue de l'exposistion au Kunstmuseum Ahlen, 2003 et au Kulturspeicher Würzburg, 2004
Buisson (Sylvie) Artistes d'Europe – Montparnasse déportée, catalogue de l'exposition au Musée du Montparnasse, Paris, 2004, Jérusalem, 2005, Torino, 2007
Szwark (Marek), Mémoires entre deux mondes, Ressouvenances éditeurs, Cœuvres (Aisne), 2010
Martel-Greiner (Hélène), Morice Lipsi, de Lodz à La Ruche, de la  figuration à l'abstraction, BeauxArts éditions (Paris), BeauxArts magazine, connaissance des arts, La Gazette Drouot, Point de vue et autres, 2014
Harembourg (Lydia), Morice Lipsi, rétrospective, Paris, 2014
Nieszawer (Nadine) Artistes Juifs de L'École de Paris 1905 - 1939, Somogy éditions d'Art, Paris, 2015
Schaffer-Hartmann (Richard), Hanauer Kleinode, Cocon Verlag Hanau, 2016
Brutscher (Sandra) Allgemeines Künstlerlexikon, Vol. 85, Walter De Gruyter Verlag (Berlin), 2016
Labhart (Walter) Wiederentdeckung in der Schweiz, Tachles, das jüdische Wochenmagazin, (Zurich)1.3.2019Sander (Christian), Claude Parent, Paul Virilio - Architecture Principe, Park Books, 2021
Sonn (Richard D), - Modernist Diaspora, Immigrant Jewish Artists in Paris, 1900-1945, Bloomsburry Publishing, (USA), Apr. 21 2022
12.07.2022 hb